Internet for astronauts and space tourists, positioning systems for rovers and driverless vehicles conducting space mining, rapid and secure communications. In the years to come, the Moon will be the destination of dozens of new space missions, and they will need all the navigation and telecommunication services that satellites allow us to use every day on earth.
This is why the European Space Agency (ESA), in its Moonlight project, has appointed an international consortium operating under the guidance of Telespazio to conduct a study of what we can do and how to provide navigation and positioning systems on the Moon and, above all, how we can make the entire project financially sustainable.
Telespazio leads a consortium of satellite operators such as Inmarsat and Hispasat, manufacturers like Thales Alenia Space, OHB and MDA UK, and small to medium-sized companies and start-ups including Argotec, ALTEC and Nanoracks Europe, as well as universities and research centres like SEE LAB SDA Bocconi and Politecnico di Milano, all of whom share the conviction that our satellite is destined to become the centre of a true Lunar Economy driven by government and private missions, innovative services and non-stop contact between Earth and the Moon.
"In the year of its sixtieth anniversary, Telespazio is proud to work with large, small and medium-sized enterprises and academies on a project of such great strategic importance for the future of European and world space exploration. Communication and positioning services will be of essential importance to allow men and women to enjoy a sustainable presence on the Moon, and could have a positive impact for life here on Earth".

Luigi Pasquali, Telespazio CEO
The infrastructure the consortium has in mind will comprise moon and earth stations and satellites in orbit around two celestial bodies, with Telespazio's Fucino Space Centre as the true nerve centre of the system, hosting the mission control centres and management of services.
Thus Fucino confirms its special relationship with the Moon, which began in July 1969, when its antennas broadcast the historic live images of the Apollo 11 moon landing to millions of viewers in Italy.
Rapid, secure communications
A reliable, secure, robust communication system on the Moon will be essential for the work of people and driverless vehicles, and will become even more important in the future, when the number of operations will increase and will affect various parts of the Moon.
There will be a need, for example, for systems operating on the Moon to speak to one another and to be controlled from bases on the Moon, orbiting the Moon, or on Earth. All this must be guaranteed at all times, without interruption, through specific services and special infrastructure.
In the same way, astronauts – and even space tourists – will require constant contact with Earth to perform their missions and, more simply, to keep in touch with their loved ones while they are in Space.
Already today, astronauts on board the International Space Station have a constant internet connection that allows them to maintain contact with the Earth and has made them true influencers from space, with their posts on the social networks.
In a few years' time, instead of stupendous views of our planet, perhaps astronauts on missions to the Moon will be sending us snapshots of the lunar seas!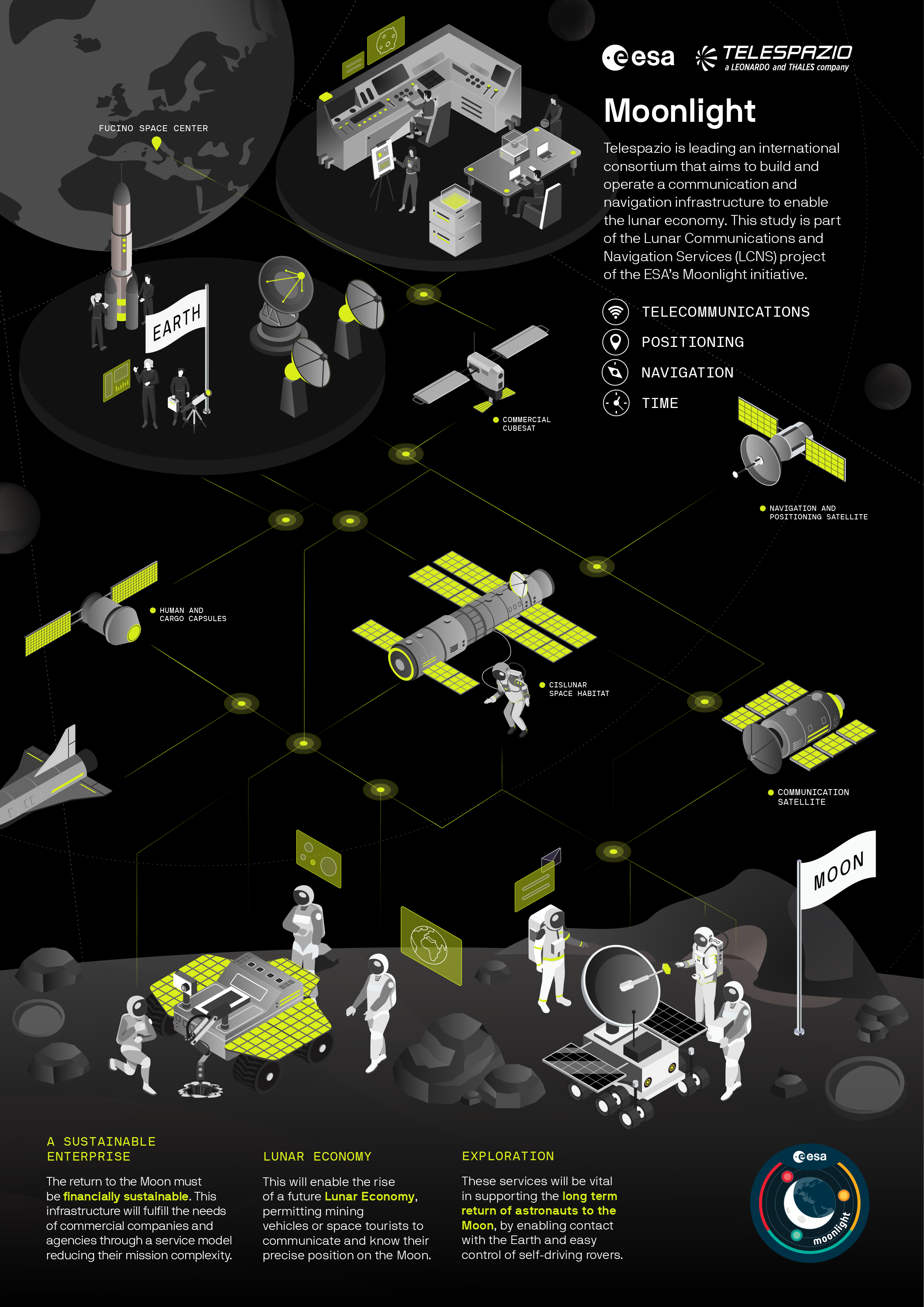 A lunar "navigator"
The key players in space exploration and the Lunar Economy will also need to get around safely, knowing where they are and, above all, how to get to where they want to go.
And so navigation and positioning systems, such as Galileo or the GPS we use on Earth, will be of essential importance to guide, for example, rovers for space mining, one of the greatest prospects of the future Lunar Economy.
Whether it's the search for rare-earth elements or extraction of water and oxygen from regolith to make fuel for space vehicles, it has become clear that mining will be a key element of space exploration, guaranteeing its economic sustainability by generating potential revenues for the companies involved, and laying the foundations for subsequent exploration of the Solar System.
Producing fuel directly on our satellite would, for example, allow us to venture a little further, towards human exploration of Mars.
And on the Moon, as on Earth today, navigation, positioning and telecommunication systems could become true enablers of additional applications and innovations, a flywheel driving sustainable exploration of our satellite and the birth of the Lunar Economy.
Image: SOM's Moon Village. © SOM | Slashcube GmbH