The role of innovation becomes even more decisive when, by embracing sustainability, it helps citizens and institutions in a concrete way.
This is the spirit that guided the "Enhanced Flood Footprint (EFF)" project by Telespazio and e-GEOS for Leonardo, awarded on Friday 11th December in the 2020 National Innovation Award "Premio dei Premi", established at the COTEC Foundation by the concession of the President of the Italian Republic.
This year, in particular, the "Premio dei Premi" took place in an entirely online ceremony, with the participation of the Head of State, Sergio Mattarella and the Minister of the Public Administration, Fabiana Dadone, the Minister for Technological Innovation and Digitalization, Paola Pisano, and the President of the COTEC Foundation, Luigi Nicolais. Alessandro Profumo, CEO of Leonardo, accepted the award on behalf of the company.
"Today we have two responsibilities: to defend people and communities as best as possible, and at the same time to prepare for a new season of development. A season that is finally sustainable at environmental, social and economic level. And therefore fairer".

Sergio Mattarella, President of the Italian Republic
Since 2001, the "Premio dei Premi" has been awarded during the National Innovation Day to underline the importance of research and innovation and their application in every shape and intensity.
For the 2020 edition, 33 awards were distributed among companies, start-ups, public institutions and design professionals.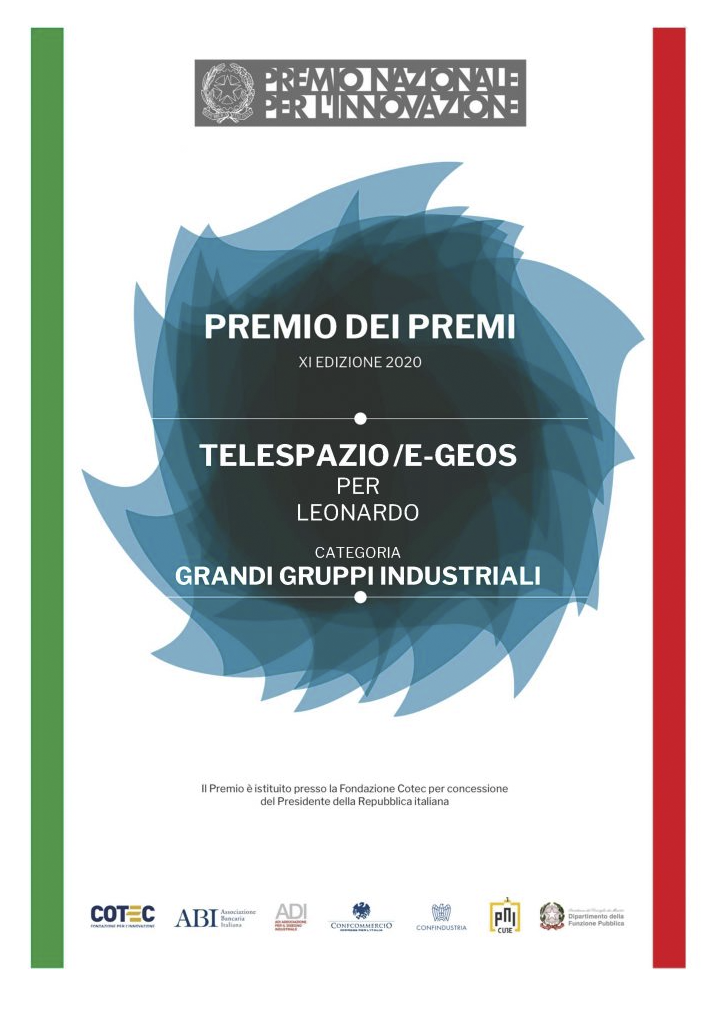 The award-winning project
"Enhanced Flood Footprint (EFF)" by Telespazio and e-GEOS for Leonardo has the ambitious goal of developing a new generation of flood-analysis products. This will grant the possibility to provide increasingly accurate and timely information to support emergency management.
The team that developed the EFF project was led by Vincenzo Scotti, who coordinated a joint Telespazio and e-GEOS group consisting of Domenico Grandoni, Lucia Luzietti, Federica Mastracci, Marco Corsi, Mariano Biscardi, Claudio Mammon and Sara Barozzi.
EFF arrived at the "Premio dei Premi" after a series of internal consultations dedicated to innovation, which led the project to be selected first in Telespazio and then in Leonardo.
The strength of the project, which allows it to overcome the limitations of the solutions currently used, is the integration and synergy of information coming from different sources. Indeed, EFF uses Electro-Optical satellite data, hydraulic models and ground-level observations extracted from social media to produce a comprehensive picture of a specific flood event or to provide updated information on flood risk in highly significant areas.
EFF is, potentially, an extremely useful tool both for companies but also for institutions such as national Civil Protections and Fire Department bodies, since it enables the most risk-prone areas to be identified with extreme precision and measures to be taken to ensure the safety of the local population.