The first COSMO-SkyMed Second Generation satellite, a constellation of the Italian Space Agency and the Italian Ministry of Defense, realised by Leonardo's companies, has acquired an image of the Liwa Oasis in the Emirates (UAE) thanks to its radar eye (SAR, Synthetic aperture radar).
The Oasis is located on the northern border of Rub 'al Khali, a large desert area in the heart of the Arabian Peninsula, one of the most inhospitable areas on the planet. The small farms of Liwa, thanks to sustainable agriculture based on drip irrigation and greenhouses, represent protection from the progress of the Rub 'al Khali sand dunes and a real wall against desertification.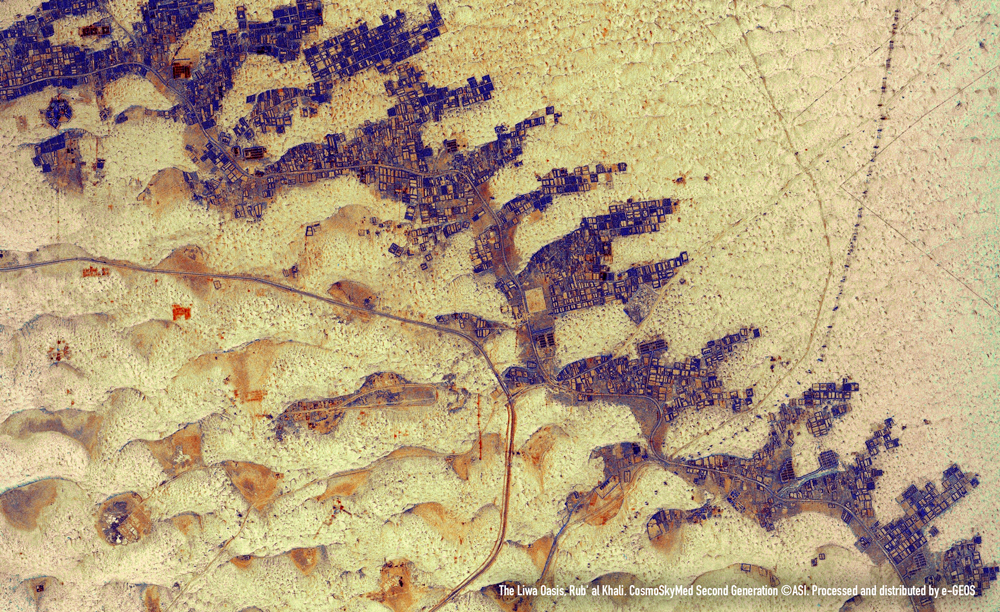 The CSG System has been realised for the Italian Space Agency and Italian Ministry of Defence with an important contribution by Leonardo through its affiliate and subsidiary companies.
In particular, Thales Alenia Space, a joint venture between Thales (67%) and Leonardo (33%), is responsible for the End to End system and for the Radar satellites, while Telespazio, a joint venture between Leonardo (67%) and Thales (33%), is responsible for the Ground Segment. Leonardo also contributes to the programme by supplying the star trackers for the satellite positioning, the photovoltaic panels and power units for electric power management.
e-GEOS, a company founded by Telespazio (80%) and ASI (20%), is responsible for the worldwide marketing of the COSMO-SkyMed products and services.